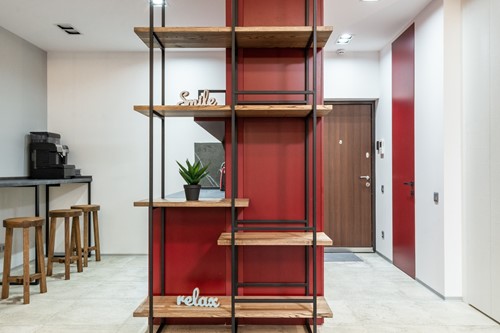 Red is a trending color in interior design and for good reason. It's a color that evokes passion and energy and can be a perfect addition to your home's color palette. However, red can also be intimidating to use. While many rooms using red walls, furniture or otherwise feel perfectly comfortable and aesthetically pleasing, it's also easy to create a visually overwhelming environment. There are some designer secrets to decorating with red that will help you. If you're interested in using this intense color in your interior decorating, here are some things to consider:
Choose the Right Red
As anybody who has looked at paint samples can agree, there are many choices beyond "just red." You have cherry, crimson, wine, brick, berry and rust—just to name a few. The great thing about this is that you can find the perfect red for any style and preference. If you want to start with a bold and classic primary staple, you can choose cherry red, or create a more sophisticated vibe with a darker hue like wine or burgundy. Rust and auburn red are more subdued and comfortable, while rosewood leans more deeply into purple territory.
If you are having trouble choosing the right red for your space, one idea is to use a mood or inspiration board with images of red objects, furnishings and rooms that you like. Maybe you are drawn to certain reds out in the world like those on fire trucks, flags, sports logos or flowers. Choosing one particular red as a starting point can be incredibly helpful in building your design.
Try a Triad
Once you choose your favorite red, the next question often becomes "what colors go with red?" There are some tried-and-true neutral colors many designers combine with red like cream, brown and gray. If you want more color, the best strategy is to use a color wheel to find complementary colors. Picking a triad of 3 colors, for example, red, green and purple, will serve as an excellent guide to your color scheme. These colors are visually pleasing when put together and mix well whether in furnishings, accessories or other decor.
You can use the color wheel as a map to find your perfect combinations, but remember that the colors you choose don't need to be the same level of intensity. Muted greens paired with rust red and brown will create a natural and cozy vibe if you shy away from the thought of emerald green and cherry red together in the same room. Get creative and try different combinations to find what you like best personally.
Start Small
As with any bold color, decorating with red can feel intimidating. If you love the look of red walls but are hesitant about the commitment, begin with an accent wall to try it out. You might find that the accent wall is the perfect amount of red needed in the space or you might find you want to switch to a different shade—or back from red entirely! You also can add red elements into your design gradually in smaller steps, like with throw pillows, blankets or rugs. A single red chair among other harmonized colors adds an excellent pop of bold color with no need for an entirely new set of furniture.
Regardless of which way you go, decorating with red has the potential to take any space in your home to the next level.